MSD's brand promise of "Committed to Customer Satisfaction, Software Excellence & Integrity' resonates through our dedicated employees.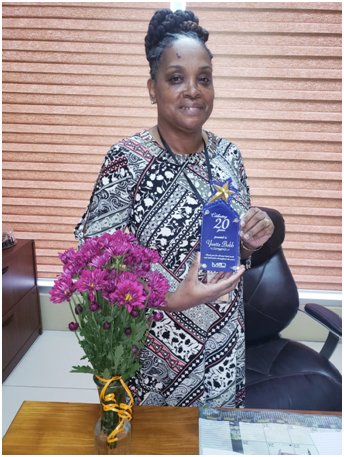 On July 10th 2020, Mrs Yvette Bobb, MSD's Manager of the Customer Advocacy Department, celebrated her 20th year of dedicated service to the organisation.
This significant milestone symbolises Mrs Bobb's contribution to assist the organisation in pursuing our brand promise.
In commemoration of this achievement, MSD presented Mrs. Bobb with tokens of appreciation and applauded her efforts of being a dedicated, hard working and loyal team member.
Customers are invited to contact Mrs Bobb This email address is being protected from spambots. You need JavaScript enabled to view it. on all non routine correspondence warranting her attention. It is Mrs Bobb desire to better harness our relationship and further enhance our customer service delivery.
MSD is proud to boast that 40% of our staff have worked for MSD for more than ten (10) years. This level of staff loyalty can be directly linked to MSD's philosophy of integrating People, Processes and Technology in order to provide innovative solutions.