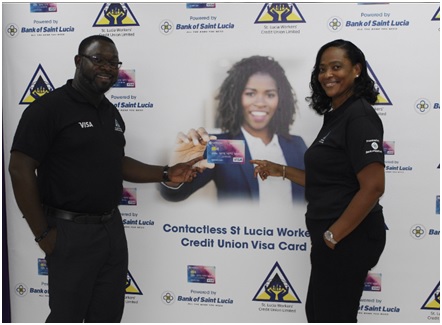 Left: Mr. Peter Lewis - President; Right: Ms. Charmain St Remy - General Manager
Micro Software Designs Ltd is pleased to advise that our customer, the St. Lucia Workers' Credit Union Ltd, officially launched its Contactless VISA Card on 30th June 2021 at their head-quarters at Bourbon St, Castries, St Lucia.
The Contactless St. Lucia Workers' Credit Union VISA Card, which is powered by the Bank of St. Lucia is a historic collaboration between the two local financial partners. The collaboration dubbed "a world of possibilities in your pocket" will provide a faster, safer and more secure means of conducting payments in person, online, overseas when travelling and over the phone using the Contactless VISA Card.
Members of the St Lucia Workers' Credit Union will benefit from the extended convenient services including access to all Bank of St. Lucia ATMs and one million ATMs worldwide, acceptance in more than 200 countries and territories and the ability to access funds from anywhere VISA is accepted.
MSD is indeed pleased to be part of this project and to collaborate once again with the other vendor Digital Cash Processing (DCP) in making this a reality.
Best wishes to the Board, Committees, Management and Staff of the St. Lucia Workers' Credit Union Ltd for achieving another milestone in your digital transformation.